Former Vice President, Abubakar Atiku is said be worried over the activeness of Vice President Yemi Osinbajo in acting capacity as 2019 election beckons.
A source close to Atiku informed New Telegraph Newspaper that the former vice president did not factor the Osinbajo's angle to his calculations when he started crisscrossing the country in preparation for 2019.
That, it was gathered, also put a strain in Atiku's relationship with the National Leader of the APC, Asiwaju Bola Tinubu.
The source told New Telegraph that: "Asiwaju and Atiku were on the same chapter up till the time Buhari travelled in January. But the way the media was hyping Osinbajo in acting capacity made Atiku to wonder if Tinubu was not prepping Osinbajo up for 2019. I must be frank with you, since that time, Atiku has been viewing them with suspicion.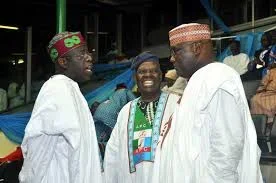 There is no open war really, but the trust is not much between them. Atiku feels that his ambition may be truncated by the Osinbajo/ Tinubu moves."
It was further gathered that some northern leaders are also tinkering with the possibility of resolving the crisis in the PDP early enough as an emergency vehicle, should the calculations for a northern president not sail on the APC ship in 2019.
– New Telegraph